Shippo Integration Overview
Shippo is a shipping platform that offers access to multiple shipping carriers for real-time rates, label creation, automated international paperwork, package tracking, and facilitating returns.
Website: https://goshippo.com/
Supported functions
Shipment Confirmation Pickup
Workflow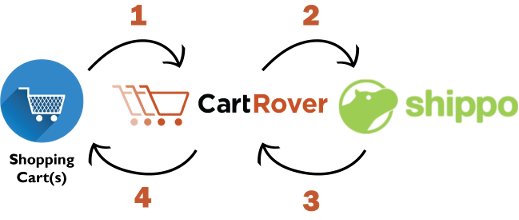 CartRover retrieves new sales orders from each order source

CartRover delivers the sales orders to Shippo

CartRover retrieves shipment tracking from Shippo

CartRover delivers shipment tracking to each order source
Integration Notes

Shippo does not support inventory sync
Shippo Setup Guide



Follow the step by step instructions on the Shippo Setup Guide to connect your Shippo account to CartRover.
Related Articles

Setting Up Shippo

Integration Specs: Supported functions: Order Send Shipment Confirmation Pickup Required Parameters Shippo User Key Step-by-step guide Step 1: In CartRover, on the WMS Setup tab, select Shippo from the dropdown menu and then click "Grant US API ...

Auto Printing Labels with Shippo

The CartRover integration with Shippo provides several additional features on top of the standard Shippo platform. The most powerful of these is the ability to auto-print a shipping label as soon as it is generated in Shippo. Here's how to set this ...

Snapfulfil Integration Overview

SnapFulfil delivers class-leading warehouse management solutions to customers in a range of industries including B2C and B2B retail, direct sales, third party logistics, manufacturing, food and beverage and electronics and electrical. ...

Bergen Logistics Integration Overview

Bergen Logistics is a third-party fulfillment center that uses a custom WMS called REX11. Bergen Logistics provides fulfillment services for a wide variety of ecommerce retailers. Website: http://www.bergenlogistics.com/ Supported Functions Order ...

EasyPost Fulfillment Integration Overview

EasyPost Fulfillment is a 3PL fulfillment center providing a simple, efficient, tech-forward solution for all fulfillment needs. From warehousing to receiving, pick-packing and shipping, EasyPost can do it all for one flat, per-package fee. There are ...